Harness the Power of Cloud with RankRocket
Seeking the Pinnacle of Microsoft Azure Solutions in Ireland?
At RankRocket, we specialize in offering bespoke Microsoft Azure cloud services that propel your business into the digital future. Rely on our seasoned experts to navigate and optimize the expansive Azure platform, ensuring your business taps into its full potential, while enjoying enhanced efficiency, scalability, and security.
For unmatched Microsoft Azure solutions in Ireland
Elevate Your Digital Infrastructure with RankRocket's Elite Azure Cloud Services
Future-Proof Azure Architectures
Entrust RankRocket to architect versatile and future-ready Microsoft Azure solutions that seamlessly sync with your business ambitions, providing a stable foundation in Ireland's dynamic tech realm.
Multi-Service Integrations
Experience seamless interconnectivity across diverse Azure services. Whether it's Azure Compute, Azure Storage, or Azure Databases, we ensure integrated efficiency for your business.
Ironclad Security Protocols
Safeguard your data and applications with our advanced security measures on Microsoft Azure, ensuring data protection and compliance within Ireland's regulatory standards.
Tailored Azure Strategies
Every enterprise has a distinct vision. Our custom Azure strategies align perfectly with your goals, guaranteeing solutions that resonate with your brand and target audience.
Efficiency-Optimized Deployments
We prioritize optimized deployment practices, assuring that your Azure-based applications and services deliver peak performance and reliability.
SEO-Optimized Azure Web Apps
Our Azure Web Apps not only prioritize functionality but also SEO. Establish a dominant online presence in Ireland with higher search visibility.
Dynamic Resource Management
Flexibly scale your resources based on demand. Our Azure solutions facilitate dynamic scaling, ensuring cost-effectiveness and efficient resource utilization.
Unified Brand Experience
Let your Azure solutions mirror your brand values. We embed your brand's essence into every Azure project, fostering trust and brand loyalty throughout Ireland.
Continuous Azure Evolution
Embrace constant innovation. Rely on RankRocket to keep your Azure services updated, refined, and in sync with evolving technological benchmarks.
Dive into Ireland's Cloud Excellence with RankRocket's Expert Azure Consultation!
Whether you're exploring the migration to Microsoft Azure or seeking to optimize your current Azure setup, our team of cloud specialists stands ready to guide and assist. Schedule a consultation with us today to navigate the myriad opportunities Azure presents and solidify your cloud presence in Ireland.
Elevate Your Cloud Capabilities with RankRocket's Comprehensive Azure Services in Ireland
Cloud Assessment
Initiating with a thorough analysis, we evaluate your existing systems, recognizing the potential benefits and challenges of migrating to Azure.
Strategic Azure Planning
Drawing insights from our assessment, we formulate a meticulous Azure deployment plan, detailing the best cloud resources and tools that match your goals.
Azure Migration
Our team of experts ensures a seamless migration process to Microsoft Azure, minimizing any operational disruption while maximizing efficiency and data integrity.
Performance Optimization
Post-migration, we conduct thorough assessments to identify areas for further optimization, ensuring you extract the maximum value from Azure's features.
Round-The-Clock Support & Management
Our dedication doesn't end post-migration. We provide continuous Azure support and management services, ensuring optimal performance and quick troubleshooting for businesses across Ireland.
Excel with RankRocket's Azure Cloud Solutions Tailored for Ireland
Azure Expertise
Our team is adept at leveraging the full capabilities of Microsoft Azure, ensuring your cloud infrastructure is powerful, secure, and seamlessly integrated.
Customized Azure Implementations
We don't believe in one-size-fits-all. At RankRocket, every Azure solution is crafted keeping in mind your unique business requirements and the specifics of the Irish digital landscape.
Data-Centric Strategies
Our Azure deployment strategies are informed by rigorous data analysis, ensuring optimized cloud performance and resource allocation tailored for your needs.
On-Time Cloud Transitions
We respect the essence of time. Trust us to ensure a smooth and punctual migration to Azure, ensuring minimum downtime and business continuity.
Collaborative Cloud Journeys
With RankRocket, you're not just hiring a service provider; you're gaining a partner. We emphasize open communication and feedback throughout the Azure implementation process.
Local Market Insights
Our finger is on the pulse of Ireland's tech scene. This enables us to tailor your Azure solutions to best fit the nuances and demands of the Irish market, providing you with a competitive edge.
Elevate Your Cloud Strategy with RankRocket's Azure Solutions in Ireland
Dive into the realm of Microsoft Azure and witness the power of cloud transformation tailored for the Irish market
Discover Ireland's Azure Excellence with RankRocket's Tailored Cloud Services
Emerging Entrepreneurs
For those breaking new grounds in business, our Azure solutions provide a reliable, scalable cloud infrastructure, allowing them to stay nimble and adaptive in the dynamic Irish market.
Small and Medium-Sized Enterprises (SMEs)
SMEs form the backbone of Ireland's business landscape. We provide Azure services that are cost-effective and scalable, ensuring SMEs can compete with larger players while managing overheads.
E-Commerce Giants
In the thriving online shopping realm, our Azure solutions facilitate smoother operations, better customer data management, and enhanced security for e-commerce platforms.
Corporate Conglomerates
For the major corporate entities, our Azure offerings are tailored to handle vast data, ensure seamless operations and offer robust security measures, cementing their dominance in the industry.
Charitable Non-Profit Organisations
Non-profits have a unique set of needs, especially in terms of cost management and community engagement. Our Azure solutions prioritize these aspects, ensuring they can focus on their noble missions.
Innovative Startups and Trendsetters
Ireland's startup scene is vibrant and constantly evolving. With our Azure services, startups get the agility, scalability, and reliability they need to innovate and stay ahead of the curve.
Experience the Future of Cloud with RankRocket's Azure Services in Ireland
In-Depth Technical Proficiency
When you partner with RankRocket, you're leveraging our vast technical expertise in Azure, ensuring a cloud infrastructure meticulously built for your unique business objectives.
Efficient Time Utilization
By entrusting your Azure implementations to us, you free up valuable time. This allows you to focus on your core business, while we manage the complexities of the cloud.
Staying Ahead with Latest Advancements
The cloud landscape, especially Azure, is ever-changing. RankRocket ensures that your cloud solutions align with the latest in Azure technologies, keeping you ahead of the curve.
Data-Driven Insights
Our Azure solutions come with powerful analytical tools. This not only ensures your operations are efficient but also provides actionable insights for better decision-making.
Cost-Effective Approach
Consider the expenses of setting up an in-house Azure team versus outsourcing to specialists. With RankRocket, you get premium Azure services without the overheads of training and infrastructure.
Customized Azure Implementations
Your business is unique, and so should be your cloud solutions. We offer tailor-made Azure implementations, ensuring they align perfectly with your brand and business goals.
SEO-Friendly Cloud Solutions
Incorporating SEO strategies even in cloud infrastructure? Absolutely. With our Azure solutions, you can improve your site's performance, potentially boosting its SEO ranking.
User Experience at the Forefront
At RankRocket, we believe in the power of user experience. Our Azure solutions ensure smooth, user-friendly interfaces and operations, enhancing overall user satisfaction.
Positioning for Long-Term Success
The digital landscape of Ireland is competitive. By leveraging our Azure solutions, you equip your business with resilient and scalable tools, laying the foundation for enduring digital success in Ireland.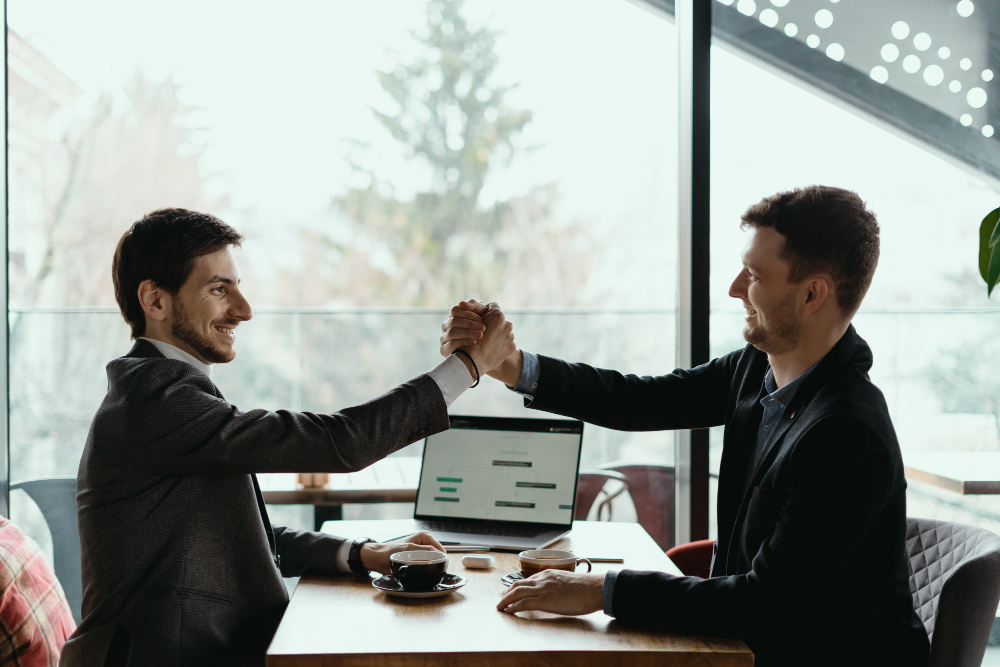 Entrust Your Cloud Solutions to RankRocket in Ireland
We Build Tomorrow's Infrastructure Today
Throughout our storied journey, RankRocket has been at the forefront of leveraging Microsoft Azure's capabilities, crafting cloud solutions that have consistently propelled our clients into the next echelon of digital transformation and business efficiency within Ireland.
What Our Client Says About Us
James
RankRocket has truly revolutionized our business operations with their expertise in Microsoft Azure. Their understanding of the Irish market, coupled with their technical prowess, made our migration to Azure seamless. We've seen significant improvements in efficiency and scalability since partnering with them. Highly recommended for anyone in Ireland looking to leverage the power of the cloud!
Patrick
We were initially apprehensive about moving our infrastructure to Microsoft Azure, but RankRocket eased all our concerns. Their team's dedication, transparency, and unmatched expertise in cloud solutions were evident from day one. Today, thanks to RankRocket, we enjoy enhanced security, scalability, and operational efficiency. They're truly the best Azure experts in Ireland!
Michael
Working with RankRocket has been a game-changer for our startup. Their Microsoft Azure solutions have given us the flexibility to scale as per our needs, without hefty overheads. Their local insights, combined with their global standards of service, make them a perfect fit for any business in Ireland. Truly top-notch Azure services!
RankRocket: Ireland's Pioneering Microsoft Azure Partner
At RankRocket, we pride ourselves on being more than just experts in digital design. As a leading Microsoft Azure partner in Ireland, we're dedicated to architecting, deploying, and managing advanced cloud solutions tailored for Irish businesses. Our commitment to excellence ensures that our clients fully leverage the potential of Microsoft Azure, optimizing efficiency and ensuring a competitive edge. Engage with us, and let's elevate your business to the clouds, reshaping your digital journey in Ireland.
A Message from Our Director
"As the Director of RankRocket, I've had the privilege of witnessing the profound impact Microsoft Azure can bring to businesses. Embracing the cloud isn't just about technology; it's about harnessing limitless potential, scalability, and agility. With a landscape as dynamic as Ireland's, our team is fiercely dedicated to ensuring that every Azure solution we deploy is tailored to resonate with the pulse of our nation's digital ambitions. With RankRocket, it's not just about cloud integration; it's about crafting the future, one Azure solution at a time."
– Kevin Horgan
GET A QUOTE NOW
Expand your business with our offshore resources