Harness Local Traffic and Elevate Conversions with RankRocket
In search of a PPC agency in Galway committed to delivering outcomes?
RankRocket is your local expert in crafting bespoke pay-per-click campaigns that bring tangible results and optimize your return on investment.
For PPC Services In Galway
Elevate Your Digital Reach with RankRocket's Galway-Centric PPC Solutions
PPC Strategy
Craft a bespoke PPC plan tailored for the Galway market, aligning with your business ambitions and local audience.
Keyword Research
Dive deep into keyword analysis to pinpoint impactful and region-specific keywords for your initiatives.
Ad Creation
Our Galway-based team designs captivating and locally resonant ad copies that generate clicks and lead to conversions.
Campaign Management
With a focus on the Galway region, we ensure meticulous oversight of your PPC endeavors to enhance efficacy and boost ROI.
Landing Page Optimization
Revamp landing pages to resonate with the Galway audience, ensuring a seamless user experience and heightened conversion metrics.
Remarketing Campaigns
Reconnect with potential Galway customers by leveraging strategic remarketing initiatives.
A/B Testing
Engage in ongoing evaluations and tweaks of ad components to ascertain the most impactful mix for the Galway market.
PPC Analytics

Delve into granular insights on campaign efficacy with comprehensive analytics tailored for the Galway locale.
Optimisation of Conversion Rates
Implement data-driven strategies to increase the percentage of visitors who do targeted activities, hence increasing campaign profitability and success.
Begin Your Journey to Enhanced Conversions with PPC Now!
With the ever-growing digital landscape, it's crucial to stand out. RankRocket's PPC specialists in Galway are poised to elevate your online presence, steering precisely-targeted traffic straight to your business. By harnessing the power of PPC, you can tap into new customer segments and realize untapped potential. Don't let your business blend into the background – let us help you shine. Schedule a consultation today to delve deeper into your PPC aspirations.
Boost Your Digital Footprint in Galway with RankRocket's Tried-and-True PPC Approach
Understanding Requirements
We examine your company's goals and target audience.
Plan Execution
Our professionals create a customised SEO plan for your website.
Website Optimisation
We optimise the technical features, structure, and content of your website.
Material Marketing
Creating interesting and relevant material to attract and keep visitors.
Reporting / Monitoring
Transparent reporting and continual outcomes monitoring.
Realigning Strategy
To ensure long-term success, we adjust and develop our plans.
Trust in RankRocket for Premier PPC Services in Galway
Local Expertise
With a deep understanding of the Galway market, our PPC tactics have consistently driven tangible outcomes and amplified ROI for our regional clients.
Galway-Focused Strategy
We mould PPC campaigns to echo the aspirations of businesses in Galway and resonate with its distinct audience.
Data-Informed Choices
Every PPC decision we make is anchored in robust data and analytics, guaranteeing peak performance tailored to the Galway scene.
Transparent Dealings
We foster an environment of trust, championing candid communication and providing clear insights into campaign outcomes.
Endless Refinement
Tapping into the pulse of Galway, we persistently finetune our PPC endeavors to uplift performance and garner superior results.
Unparalleled Skill & Acumen
Our PPC maestros, seasoned in the Galway digital landscape, harness extensive sectoral wisdom to promise unparalleled service and campaign prowess.
Harness the Potential of PPC Advertising for Exponential Growth in Galway
Teaming up with a locally-focused PPC agency like ours can usher in a plethora of benefits, amplifying your online prominence and catalysing conversions in the Galway market
RankRocket Offers Tailored PPC Solutions for Diverse Businesses in Galway
Startups
Embarking on a new venture in Galway? We aid startups in securing immediate recognition and steering precise local traffic through adept PPC initiatives.
Small to Medium Enterprises
With a keen understanding of the Galway business landscape, our PPC approaches are designed to meet the distinct demands and budgetary considerations of SMEs.
E-Commerce Outlets
For e-commerce platforms operating in or targeting Galway, we escalate sales and catalyse conversions using PPC strategies that resonate with local shoppers.
Renowned Brands
For brands with an established footprint in Galway, we refine and rejuvenate PPC campaigns, optimizing ROI and broadening local market dominance.
Advantages of PPC Advertising in Galway
Immediate Impact
With PPC campaigns, businesses in Galway can achieve instant recognition and begin attracting website traffic right from the outset.
Precise Engagement
PPC permits you to narrow down to keywords and demographics pertinent to the Galway market, ensuring you captivate the most fitting audience.
Budget-Friendly Promotions
With adjustable budgetary choices and ROI traceability, PPC emerges as a value-driven promotional avenue in Galway's competitive landscape.
Boosted Conversions
Skillfully curated PPC strategies can notably elevate conversion rates, propelling your Galway-based business towards accelerated growth.
Augmented Brand Visibility
Steady visibility through PPC not only draws traffic but also amplifies brand awareness among the Galway populace.
Metric-Based Optimization
Comprehensive analytics empower Galway businesses to gauge the efficacy of their campaigns and finetune them for optimal results.
Dynamic Marketing
Within the dynamic Galway market, PPC campaigns offer the agility to be modified in real-time, aligning with market shifts and local user inclinations.
Edge Over Rivals
In the race for digital dominance in Galway, PPC serves as a catalyst, enabling you to outshine local competitors and clinch top spots in search engine rankings.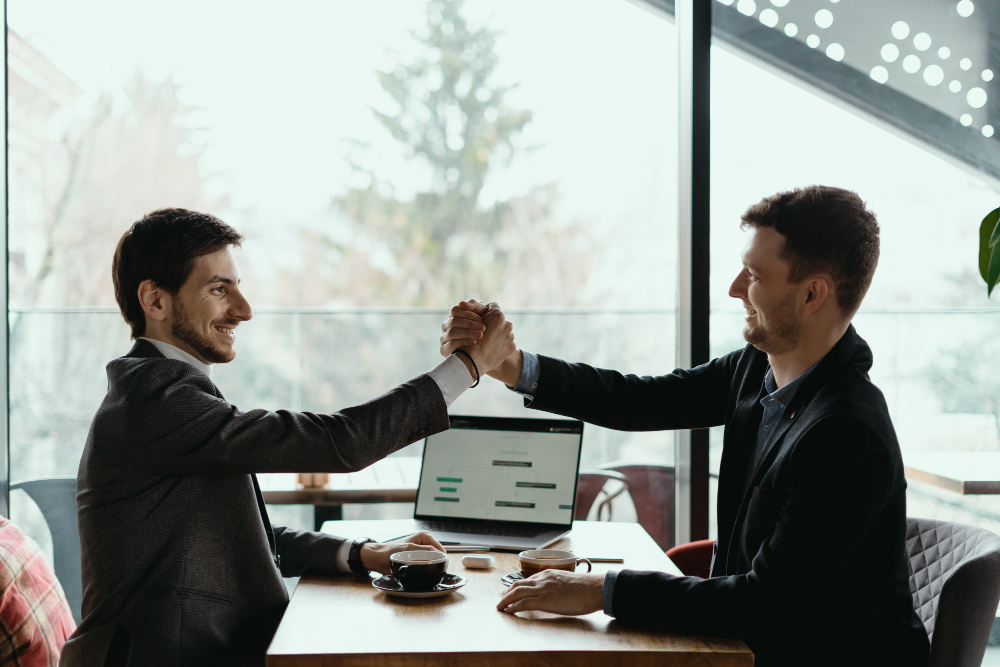 Trust RankRocket
We Make Promises Come True

Over its illustrious journey, RankRocket has pioneered transformative PPC campaigns in Galway, amplifying our clients' digital stature and catalysing commercial expansion.
RankRocket: Galway's Go-to PPC Maestro
Situated in the heart of Ireland, RankRocket is resolute in its mission to craft compelling, ROI-centric PPC campaigns that propel Galway businesses to online zeniths. Partner with us to redefine your digital ad strategy and chart a trajectory of exponential growth in the Galway market.
A Note from the Director
"In my capacity as RankRocket's Director, my utmost priority is to offer unmatched PPC solutions that culminate in tangible success for businesses in Galway and across Ireland. Our squad of PPC virtuosos remains unwavering in its commitment to heightening your digital footprint and supercharging your conversions via strategic endeavors."
– Kevin Horgan
GET A QUOTE NOW
Expand your business with our offshore resources