Single Page Website Development in Ireland
Craft A Seamless Online Journey With RankRocket
Searching for specialized single page website solutions in Ireland?
RankRocket delivers state-of-the-art one-page web designs that captivate, engage, and convert your audience effortlessly.
For expert single page web development in Ireland
Delve Into Digital Excellence Through Innovative Single Page Design Services
Intriguing Single Page Aesthetics
Craft a potent digital presence right in Ireland. Our single page designs captivate at first glance, encapsulating your brand's spirit seamlessly.
Responsive Single Page Designs
Connect with your Ireland audience and beyond. Our one-page designs adapt perfectly across devices, ensuring a consistent experience from smartphones to desktops.
Enhanced User Experience (UX)
Navigate with ease on a single page. With intuitive pathways and clear call-to-actions, we prioritize user satisfaction and elevate conversion rates.
One-Page Digital Storefront Solutions
Turn visitors into patrons with our specialized single page e-commerce solutions. Convert more, faster, on a singular platform.
Result-Driven Single Page Layouts
Maximize conversion potential on one page. With strategically curated content and compelling design elements, every scroll advances the narrative.
SEO-Optimized Single Page Platforms
Achieve greater visibility in search engines. Our single page designs are crafted with SEO in mind, ensuring your brand rises organically in Ireland and beyond.
Efficient Single Page CMS Solutions
Empower your team. With our streamlined CMS for single page websites, updating and managing content becomes a breeze.
Consistent Brand Persona On One Page
Infuse your brand's identity into a single page. We create a cohesive design that builds brand trust and recognition throughout Ireland.
Single Page Website Revamp
Upgrade to a sleeker, more efficient single page layout. Benefit from our expertise to give your existing website a modern touch.
Schedule Your Single Page Website Consultation in Ireland Today!
Whether you're venturing into a fresh online presence or revamping your current one, our dedicated team specializes in single page web design. Let's turn your vision into a seamless online journey. Talk to us today about your requirements and elevate your digital footprint in Ireland.
Craft a Remarkable Single Page Website with RankRocket's Unparalleled Design Approach
Dive Deep Into Your Vision
Before we start the design process, we dedicate time to understanding your business, its objectives, and the audience you aim to serve. This ensures the single-page website we design resonates with your brand and its ethos.
Laying The Foundation
Our design maestros draft wireframes and mockups, providing a tangible blueprint for your website's layout. It's the skeleton upon which the beauty and functionality of your site will be built.
Breathing Life Into Ideas
With a clear plan in place, we set to work on the actual design and development. Merging the perfect balance of aesthetics with utility, we ensure every scroll tells a story and engages your audience.
Ensuring Perfection
No website goes live without passing through our rigorous testing phase. From ensuring it's bug-free to optimizing for speed and responsiveness, we make sure your single-page website is primed for performance.
Your Digital Launchpad

Once you're 100% satisfied, we launch your single page website to the world. And remember, our journey doesn't end there. We stand by, ready to assist with any updates, tweaks, or support you might need in the future.
Why Trust RankRocket For Your Single Page Web Development In Ireland?
Creative Mastery
At RankRocket, creativity isn't just a buzzword; it's our bread and butter. With our seasoned designers at the helm, expect your website to be a blend of innovation, functionality, and pure visual delight.
Uniquely Yours
No two brands are the same, and neither should their websites be. Our designs aren't off the shelf. We tailor each project to reflect your brand's distinct character and its aspirations.
Decisions That Deliver
Gone are the days when websites were just digital brochures. In today's digital age, every design decision impacts user experience and, by extension, your brand's digital performance. Our data-centric approach ensures that your site is optimized for both appeal and action.
On-Time, Every Time
We respect your time. With a perfect blend of efficient workflows and expert professionals, RankRocket ensures that your project transitions from the drawing board to live status, right when you expect it.
Your Vision, Our Blueprint
We see ourselves as partners in your digital journey. Our collaborative ethos means we're always receptive to your ideas, feedback, and vision, ensuring the final product is precisely what you envisioned.
Local Pulse, Global Standards
Ireland isn't just where we operate; it's home. This local connection empowers us with unique insights into the regional digital landscape, allowing us to craft websites that resonate locally while meeting global design standards.
Why Should Your Brand Opt for Single Page Website Design?
Single Page Website Development in Ireland: Making a Memorable Impact with Minimalism
RankRocket Offers Single Page Website Design Services For A Variety Of Business Types
Startups & Entrepreneurs
For those initiating their business journey, single-page websites offer a cost-effective, yet impactful way to showcase their vision, products, or services.
Local Artisans & Craftsmen
Highlight your craftsmanship and unique products with a focused design that tells your story and showcases your artistry at a glance.
Event & Conference Organizers
Promote your upcoming event, conference, or workshop with all pertinent details, schedules, and registration info cohesively presented on a single scrollable page.
Freelancers & Consultants
Establish a professional online presence, showcasing services, testimonials, and contact information, making it easy for potential clients to reach out.
Restaurants & Cafés
Provide a concise overview of your menu, ambiance, and dining experience, enticing visitors to make a reservation or visit in person.
Non-Profits & Community Projects
With a direct narrative, highlight your mission, ongoing projects, and how supporters can get involved or contribute to your cause.
Benefits Of Having A Professionally One Page Designed Website
Responsive Design
A professional agency ensures that your website adjusts seamlessly to various screen sizes, offering an optimal viewing experience for mobile, tablet, and desktop users.
Integrated Functionalities
From e-commerce integrations to social media plugins, a professional web design agency embeds the essential features your business requires.
Consistent Branding
A cohesive design ensures consistent branding across all pages, solidifying brand recognition and trust among visitors.
Maintenance & Support
Post-launch, professional agencies offer ongoing support and maintenance, ensuring your website remains functional and up-to-date.
Feedback & Revisions
Professional agencies work closely with clients, welcoming feedback and making revisions to align the design perfectly with your vision.
Optimized Performance
Fast loading times and smooth navigation are guaranteed when experts craft your website, offering visitors a delightful browsing experience.
Cross-Browser Compatibility
Professionally designed websites ensure that your site looks and functions flawlessly across different browsers, from Chrome to Firefox to Safari.
Competitive Advantage
In a digital landscape filled with websites, a professionally designed site gives you an edge over competitors, positioning you as a leader in your industry.
Future-Proofing
A web design agency builds your website with future expansion in mind, making it easier to incorporate new features or scale as your business grows.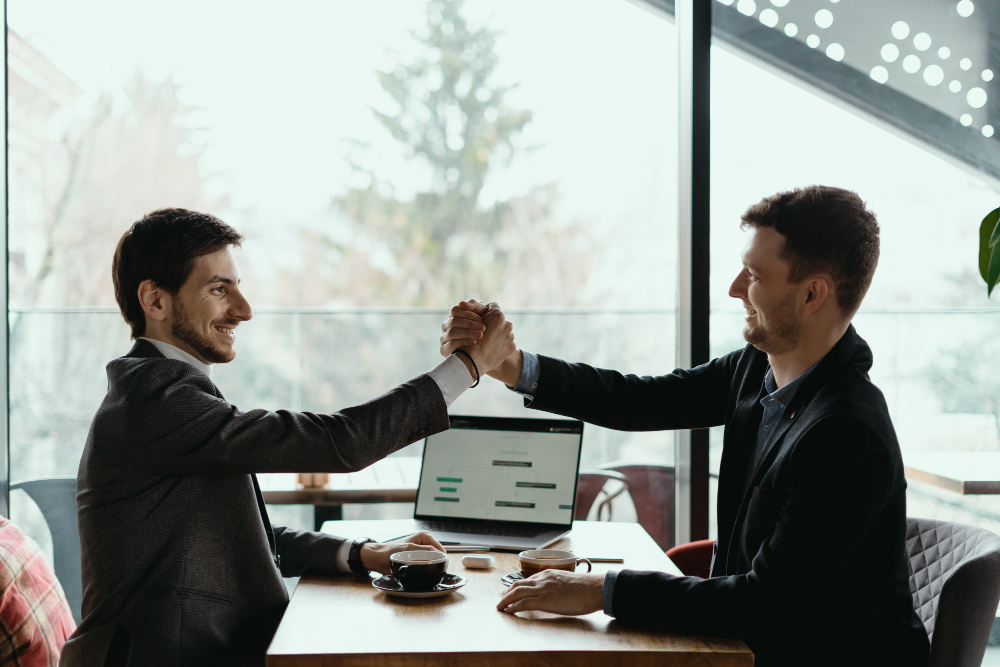 Trust-RankRocket
Spotlight on Simplicity
Over the years, RankRocket has masterfully crafted and launched numerous single-page websites tailored to the Irish market. With an emphasis on clean design and efficient user experience, our clients have witnessed a remarkable boost in their online presence and engagement.
What Our Client Says About Us
Hayley Bocking
Hard to put into words how amazing these guys are! Top quality website design and really nice people too! They help you everystep of the way and even after when the website is finishedthey offer additional support. You can tell how enthusiastic they  are about what they do! Thank you :)!
Dennis
Hi. Just wanted to thank Kevin and the team at RankRocket for doing such a savage job on my website. They are honest and clear in what they are going to do and always contactable. Affordable and professional and on my level .Thats why im staying with them.
Chris Good Luck Lowe
RankRocket team did my website for me much better than I had imagined. They helped me through the whole process and gave me advice on things I didn't know about. Will be using in the future and would highly recommended.
Premier Single-Page Web Design Specialists in Ireland
At RankRocket, we stand out as a foremost GMB agency in Ireland, specializing in refining GMB listings, amplifying local visibility, and driving targeted foot traffic. Our unwavering commitment and deep expertise empower businesses to fortify their local standing and sustain long-term local market growth.
Director's Statement
"Every website is a digital story, a reflection of a brand's promise, values, and aspirations. At RankRocket, we don't just design websites; we create experiences. As we traverse through the digital landscape of Ireland, our mission remains unwavering – to empower businesses with websites that are not only visually stunning but also strategically aligned to their goals. With each project, we embrace the challenge, innovate, and push the boundaries of what's possible. Your success fuels our passion, and together, let's craft a digital narrative that resonates, engages, and inspires."
– Kevin Horgan
GET A QUOTE NOW
Expand your business with our offshore resources